Pricing
Dallas Limo Pricing
Dallas limo prices starting at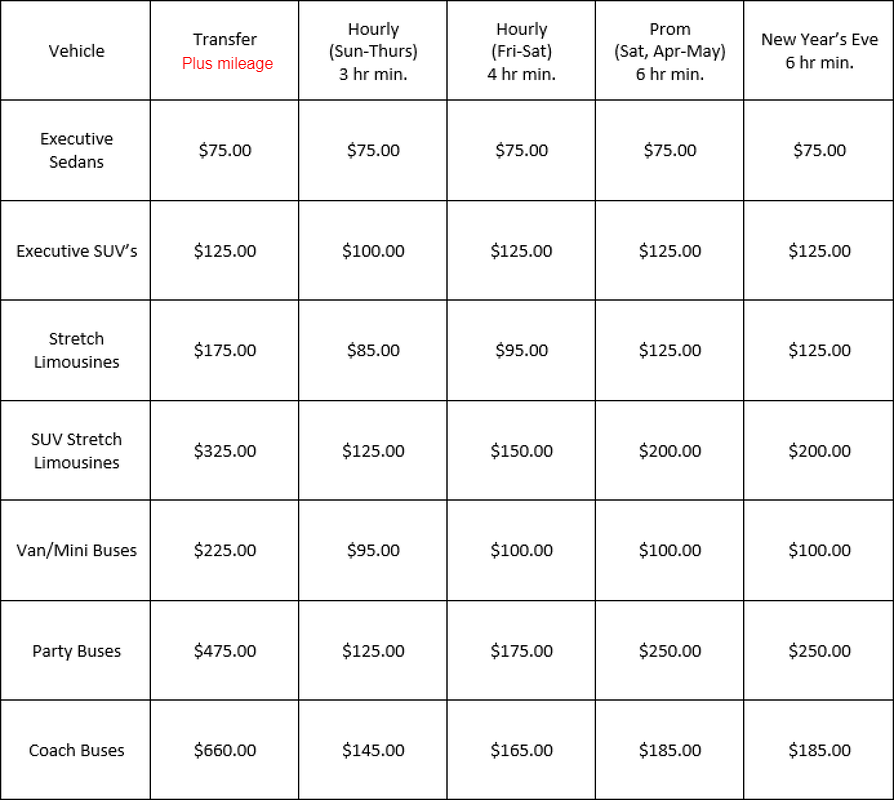 * The Dallas limo and party bus prices above are subject to change depending upon availability, mileage, short notice, early and late requests, or weather issues. Please call our Dallas limousine service office to get an exact price for your date, time and event.
The above limo prices for Dallas Texas are standard and posted as a guideline for you to reference. Limo Transfer rates are a beginning base rate for in town. Please call to confirm your limo price for Dallas as it may be more depending on your pick up point and drop off point. All transfers have a complementary 10 minute wait time, if overage occurs, you will be charged. Transfers are not available after 5 pm on Saturday, during prom season, major events, or for New Years Eve limo rentals.
These Dallas Limousine prices are subject to a 20% service and fuel charge, 5% maintenance fee, and, or a 5% processing fee.
The stated Dallas limo price does not include any gratuities for the chauffeur, please remember to add a tip amount to your bill to show your appreciation for their services provided to you. Standard gratuity is 10-20% of your bill.
Ask about our Dallas Party bus prices!
*Please call for special rates on large groups, corporate events, or any other special occasions.
*Prices may vary. Prices do not include 20% service fee for driver or 5% S.T.C. All airport runs are subject to a $5.00 toll charge.
*There may be an additional fee for service to and from red-eye flights.
*Prices are subject to change.
*Coach bus rentals always have a 6 hour minimum.
​Looking for a safe, affordable, and reliable alternative transportation for your next event? Get a luxury Dallas limousine from Silver Image Limo today!
CALL TODAY at 972-230-8144 to learn more about our Passenger Van & Buses or fill out our Free Quote Form