Dining In Style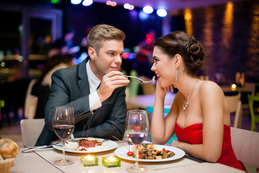 So, you have a special evening planned to dine in style! This is the best time to hire Limo Service Dallas. What you have planned is to go to a very prestigious restaurant with the people you love. Show up in style and be able to talk with your loved one instead of focusing on driving, parking and everything else.
That's where Limo Service Dallas comes into play. By hiring our limo rental service you won't have to worry about how much alcohol beverages you might drink. The very last thing you want on your hands is getting pulled over by the police for drinking and driving, right?
Why search for a parking spot that's within a reasonable amount of walking distance? Our professional Dallas chauffeurs will take care of all those worries. That way, there's no mishaps during your wonderful night of dining in style…
Let us be able to treat you like a King and Queen just like you are when inside one of our Elegant Limousines. We aim to pamper our clients and give them an evening they will always remember. In fact, we will exceed your expectations!
Or maybe you want to take out your mom or dad. What better way to dine with your parents than picking them up in a luxurious Limo Service Dallas. How about that best friend that was always there for you while growing up? Wouldn't that be a great time for our Limo services? Whoever you want to dine in style with, let Limo Service Dallas Rentals take you all on the ride of your life…
You will be so satisfied you called us! Let us be a part of this evening so we can show you we will exceed your expectations. Our friendly staff is always here to book a limo for you at your earliest convenience. Don't hesitate to call or send us an email and we will be sure to get back with you quickly…
CALL TODAY at 972-230-8144 or fill out our Free Quote Form.