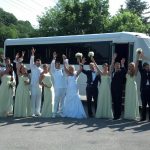 Title: Limousine Seating Capacity: Elevating Group Travel with Opulence!
Introduction:
Are you curious about limousine capacity for group travel? Get ready to embark on an exciting journey of exploration as we unveil the secrets of limousine seating capacity. With a delightful blend of enthusiasm and statistical insight, we'll delve into the different limousine types and their respective passenger limits, ensuring you're well-prepared for your opulent group adventure!
Limousine Types and Passenger Capacities:
Limousines come in various shapes and sizes, each offering a unique experience. From classic stretch limos to party buses and SUV limousines, the range of choices is vast. Now, let's discover the seating capacities of these luxurious rides.
Let's start with the classic stretch limousine, the epitome of timeless elegance.
Classic Stretch Limousines:
These iconic beauties are known for their stylish charm and spacious interiors. Classic stretch limousines can typically accommodate 6 to 10 passengers, making them an ideal choice for intimate gatherings or executive travel.
For larger groups, let's explore the grandeur of SUV limousines.
SUV Limousines:
The SUV limousine class offers ample seating capacity, making it perfect for bigger groups. These luxurious rides can comfortably accommodate 11 to 20 passengers, ensuring a memorable experience for all.
If you're looking to turn heads and create a lively ambiance, consider the alluring world of party buses.
Party Buses:
Party buses are synonymous with celebration and excitement. These extraordinary vehicles boast seating for larger groups, accommodating 14 to 50 passengers. Enjoy the party on wheels as you revel in the vibrant atmosphere.
But, when it comes to transporting a sizable number of people, coach buses reign supreme, offering unparalleled comfort and convenience.
Coach Buses:
Coach buses, kings of group travel, offer spacious interiors and impressive seating capacity, comfortably accommodating large groups for various occasions. With seating capacities ranging from 40 to 60+ passengers, enjoy panoramic views, plush seats, and create unforgettable memories. Coach buses make group travel a breeze, ensuring a seamless and luxurious journey.
And, legal references play a crucial role in determining limousine seating capacity.
Legal Considerations:
In many regions, limousine seating capacity is regulated by local transportation authorities. Law references or codes, such as the Federal Motor Carrier Safety Administration (FMCSA) guidelines in the United States, outline passenger limits and safety measures for various vehicle types.
So, when planning your luxurious journey, keep practical aspects in mind.
Comfort and Space: While the seating capacity is essential, remember to prioritize the comfort and space for your passengers. Ample legroom, plush seating, and luxurious amenities enhance the overall experience.
When reserving a limousine, communication is key.
Communicate with the Rental Company:
To ensure a seamless and enjoyable experience, communicate with the limousine rental company. Provide them with accurate passenger numbers to secure the perfect vehicle for your group.
Keep in mind that some limousines may offer unique seating configurations.
Specialty Limousines:
Certain specialty limousines may have distinct seating setups or added amenities. Always inquire about these features to find the best fit for your group's needs.
Conclusion:
As we conclude our exhilarating journey through the world of limousine seating capacity, you are now well-equipped to choose the perfect ride for your group adventure. From classic elegance to party-ready excitement, the choices are endless. Step into the realm of opulence and elevate your group travel experience with lavish luxury. Embrace the grandeur of limousines as you embark on a memorable journey with your loved ones or colleagues. Let the opulent ride begin! 🚗🌟 #LimousineSeatingCapacity #GroupTravel #LuxuryAdventure