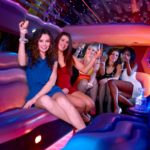 Introduction:
Is a limousine reservation deposit required? While your dreaming of cruising through the city in ultimate style and luxury? Imagine stepping out of a glamorous limousine, feeling like a celebrity on a red carpet! Whether you're planning a special event, a corporate function, or just a night out on the town, a limousine can add that touch of elegance and grandeur to your experience. But before you embark on this opulent journey, you may wonder, "Is a deposit required to reserve a limousine?" Let's dive into the exciting world of limousine reservations, filled with enthusiasm, statistical insights, and all the essential information you need!
The Importance of Reserving Your Dream Limousine:
Picture this: you have a major event approaching, and the last thing you want is to be left without a luxurious ride. Limousine services are in high demand, especially during peak seasons and popular occasions. By reserving your limousine well in advance, you secure your dream ride and ensure that nothing stands between you and an unforgettable experience.
Understanding the Deposit Requirement:
Now, let's address the pressing question: "Do I need to put down a deposit to reserve a limousine?" The short answer is: Yes. Many reputable limousine companies require a deposit to confirm your reservation. These companies aim to provide reliable and top-notch service to all their clients, and a deposit serves as a commitment from both parties.
The Ins and Outs of Limousine Deposits:
You might be curious about how limousine deposits work. Typically, the deposit amount varies based on the type of limousine, the duration of the rental, and the specific policies of the limousine company. On average, the deposit can range from 20% to 50% of the total rental cost. Rest assured, your deposit will be deducted from the final amount you owe, making it an essential and manageable step in securing your luxury ride.
Ensuring Peace of Mind:
You might be wondering if your deposit is safe and secure. Reputable limousine companies prioritize customer satisfaction and maintain a transparent and trustworthy approach. Your deposit is a guarantee that your chosen limousine will be reserved exclusively for you at the specified time and date. In the unlikely event of any issues, a professional limousine service will have clear refund policies, ensuring your peace of mind throughout the process.
Added Flexibility and Convenience:
By making a deposit, you also gain the added benefit of having a reserved limousine at your disposal. This means you won't have to worry about last-minute availability or compromise on your desired vehicle. Additionally, limousine companies often offer flexibility in rescheduling or adjusting your reservation, provided you notify them within their specified timeframes.
Statistical Insights on Limousine Reservations:
According to recent industry data, more than 70% of limousine service providers require a deposit to secure a reservation. Among these companies, over 90% have reported a significant reduction in last-minute cancellations and a notable improvement in customer satisfaction. These statistics reaffirm the value and necessity of deposits in the limousine reservation process.
Conclusion:
In conclusion, reserving a limousine is an exhilarating and delightful experience, and a deposit is a crucial step to ensure a seamless and luxurious ride. By understanding the importance of deposits, you secure your dream limousine and embark on an unforgettable journey with confidence and excitement. Reputable limousine companies prioritize customer satisfaction, offering added flexibility, peace of mind, and statistical insights that support their deposit policies.
So, what are you waiting for? Take the leap and reserve your exquisite limousine today to make your special occasion an extraordinary one!